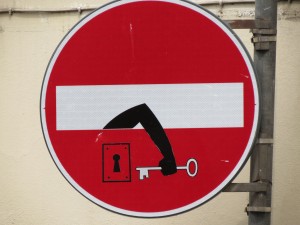 That title sounds so spy-like. Debrief of the Italy Mission. I bet debriefings are incredibly boring – listening to someone drone on about all the mundane details of hours stuck in the surveillance van with bad takeout food and…wait, do my blog posts sound like that?
Here are the results of three months in Italy in a surveillance van
I can impress a taxi driver
I wish I'd started school earlier
I slacked off
I earned an art history degree
Impressing a taxi driver
Everyone knows that the best judge of language level is a taxi driver. And I passed with flying colors. He couldn't believe I'd only been studying for two months. We talked about my year of travel, the Italian economy, and how to learn a language. I sounded confident, my accent was good, and most of the words came naturally.
So to geek out on you for a bit. I'm probably high-intermediate. I can easily talk about the present and the past. I have the vocabulary to talk about my favorite topic: myself. My travels, my way to learn a language, and line dancing. I have the confidence to sound like I simply can't decide what word I want to use instead of telegraphing that I have no idea what the word is.
It's not as good as French though. I pause to get the right ending for verbs expressing the future. And I have to hack my way through any sentence that involves conditions, hypotheticals, or too many pronouns. (The comparison to French isn't fair until I spend a year or more in-country.)
Language School
I was opposed to taking language classes. Dismissively so. I looked back at my high school language classes and how they focused on grammar, not speaking. But then I hit a plateau after a few weeks. Gotta be willing to try, right? It was just as disappointing as I expected. And I wish I'd done it sooner.
You know you're in trouble when the instructor also wrote the textbook. At every grammar slip he would exclaim "nein"! This was even more amusing because he wore dark gray turtlenecks, had a hooked nose, and was bald. Hello Gru.
So why would I do it again? The social group. Firenze is entirely populated by service staff and drink-abroad study-abroad participants. The former work too much. The latter aren't really trying to learn Italian. My class was full of other foreigners living away from home with the goal of learning Italian. Perfect! We had coffee breaks, happy hours and museum visits, Since none of them were native English speakers, it was easy to keep Italian as our common language. Yay!
Slacking Off
I remember saying "my full-time job" will be learning each language. Yeah, right. (Oh, and on top of that, I'll write this blog three times a week and post lots of photos to Instagram and Flickr. Easy.)
Who can study full-time when there are so many beautiful churches and museums to explore? And that's just Firenze. I had to go to Pisa. And Napoli. And Roma and Venezia. And I couldn't pass up a couple of side trips to Paris and Amsterdam.
Obviously I slacked off. And I enjoyed every minute of it. I delighted in long lunches of pasta with wine. Afternoon breaks for a gelato or a marocchino coffee drink. A glass of prosecco or a nice lager while sitting outside admiring the white and green marble facade of the basilica. I loved not having to rush between conference calls or respond to gazillions of emails. I loved conquering the world once a week with a computer game. (You have your hour of TV each night, I have Civilization 5. At least mine's in Italian.)
Don't get me wrong, I spoke Italian every day. Sometimes that was pushing myself into new territory, sometimes it was just digging deeper grooves for things I'd already learned. When I needed something new to talk about, the Internet gave me a sensation like the mysterious black-and-blue dress that opened up conversations I couldn't have planned on. (Thank you internet.)
But this was definitely not boot camp. It was immersive, but it was not intense. If I had worked harder, would my Italian be as good as my French? Maybe. Part of me wishes I'd worked harder, but more of me is glad for the whole experience.
Art History
While I was slacking off, I accidentally learned everything about art. It started off innocently. I just wanted to see the David. The first look is free – there's a copy on display outside the palazzo vecchio. Then I paid to go into a museum. I saw Donatellos and Leonardos and Rafaellos. Soon I was addicted to works by all the Ninja Turtles.
I started visiting churches. I couldn't control it. It became an everyday need. The outsides are gorgeous.  The insides are full of brilliant frescoes, golden mosaics and marble sculptures. I tried them all. Pisa Campo Santo, Napoli's Veiled Christ, San Marino's patron saint Agatha, Siena's gargoyles.
Soon I was traveling to other countries for my fix. I got into Impressionism in Paris at the Orangerie. Back in Rome I did some post-impressionism by Matisse. In Amsterdam – known for it's free-wheeling ways – I soon was deep in post-post-impressionism.
My main supplier was Rick Steve's. He offered a free downloadable audio guide. That's how they get you hooked. I listened to him explain the Sistine Chapel and St Peter's Basilica. Then in Venezia I followed him through Saint Mark's Basilica (with Byzantine Icons) and the Franciscan church of the Frari.
It all came to high in Milano. I saw DaVinci's Last Supper, not nearly as resilient as Michelangelo's frescoes. I marveled. at the immense Duomo cathedral which took 500 years to build and could hold any of the other churches I visited. Plus it includes every art movement along the way. Renaissance, Gothic, Baroque and post-impressionism.
Recovering in Japan
Now that I'm in Japan, I'm going to make some changes. First, I'm going cold-turkey on art. (Only occasional admiring glances at some shinto temples.) Second I'm starting with a school much earlier – to have a social circle. Third, I'm going to travel less. Well, maybe a stop at Kyoto. And Hiroshima. And Himeji. Possibly pop over to South Korea to see a friend…