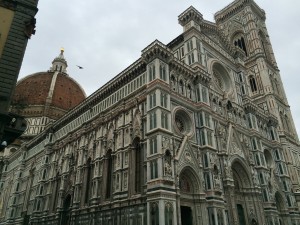 I'm in Florence, in a beautiful apartment with all of life's essentials: water, heat, and WiFi. It's been a bumpy ride since Saturday. I moved out of my apartment, flew to Italy via Philly, and got moved in to my apartment.
Saturday was a disaster. I alternated between three scenarios of certain doom. The first was that I would have to miss my flight because I would not get everything done. The second was that I would lose a bunch of money by forfeiting my security deposit or having to pay someone to clean my apartment. The third was that I would lose a bunch of money and still miss my flight. I spent the entire afternoon cursing.
Leonard Bernstein said "To achieve great things, two things are needed: a plan, and not quite enough time" I'm not sure I really had a plan. But with the help of several people I was able to pack my bags, store the most important things I wasn't taking, and give away the rest. Thank you – you know who you are.