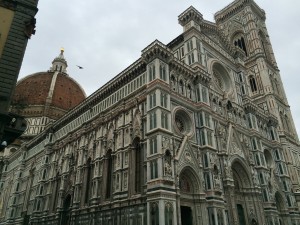 I'm in Florence, in a beautiful apartment with all of life's essentials: water, heat, and WiFi. It's been a bumpy ride since Saturday. I moved out of my apartment, flew to Italy via Philly, and got moved in to my apartment.
Saturday was a disaster. I alternated between three scenarios of certain doom. The first was that I would have to miss my flight because I would not get everything done. The second was that I would lose a bunch of money by forfeiting my security deposit or having to pay someone to clean my apartment. The third was that I would lose a bunch of money and still miss my flight. I spent the entire afternoon cursing.
Leonard Bernstein said "To achieve great things, two things are needed: a plan, and not quite enough time" I'm not sure I really had a plan. But with the help of several people I was able to pack my bags, store the most important things I wasn't taking, and give away the rest. Thank you – you know who you are.
And then after an exhausting, stressful day I was at the airport. I was ready to be pampered with the first class treatment I had spent my hard-earned free bonus miles for. Except I was on US Airways out of San Francisco. No first class lounge in their terminal. No lounge at all. Not even a wine bar, like Vino Volo. What kind of third world airport is this?
I thought, at least I'll be pampered in first class on the aircraft. Not really. It wasn't bad, but the seats barely reclined, so I couldn't sleep. And there was no power plug, so I couldn't play Civilization. I mean, really? Is this what air travel has become?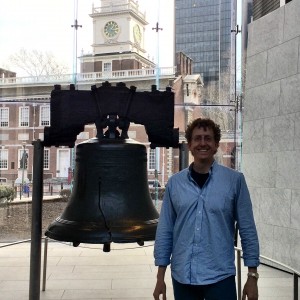 I got to Philly at 6am, exhausted and confused, with a raging headache from the glass of red wine I had at the diner in the SFO airport before my flight. My uncle picked me up and I got a three hour nap at his place. In my twelve hour layover I got brunch, a tour of Independence Hall and the Liberty Bell, and a locally brewed beer at a dive bar that my buddy in Campbell would love. (They have PBR on tap.) I had General Washington's Tavern Porter.
At least PHL has a lounge. It even has a separate section for First Class so we don't have to mingle with those business class riffraff. By now it's been 24 hours since I've seen a vegetable, so I grabbed the entire tray of broccoli and cauliflower, heaped on some hummus, and poured myself a glass of champagne and a glass of chardonnay while I tried to recharge all four iDevices.
Then it was time to board. My expectations are now significantly lower. I imagine sitting up-right all night unable to sleep on my second red-eye in a row. I get to the airplane door and show them my boarding pass. The Pierce Brosnan look-alike flight attendant escorts me to my seat. He introduces himself as David, the chief of the flight crew, and tells me to call on him for any need I have. I now have a man-crush on him. As soon as David leaves, I meet Michael, who reminds me more of Simon Pegg; less handsome than Brosnan, but also less intimidating. He gives me a menu and lets me know that dinner is available whenever I would like. After he leaves I meet my third flight attendant, and I'm not even remembering names now. She offers to turn down my bed whenever I'm ready after dinner. Yeah – I have a lie flat seat.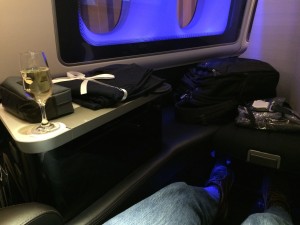 So I have a three course meal ("We have a salmon crostini appetizer that's not on the menu, are you interested?"), including French wine and a glass of tawny port. I watch a movie on my personal 24 inch screen. I sleep flat, fully stretched out, for three hours, and then I wake up to a full English breakfast with a latte. (Well, the latte was from one of those terrible instant Nescafe machines. I actually had my hopes up for a real espresso machine on board.)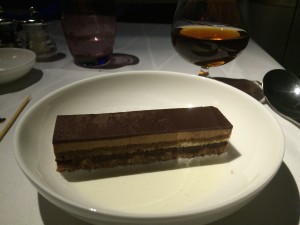 And then I'm in Bologna, Italy and I have to catch the train to Florence. Having two bags is started to be a real pain. Decisions are killing me. Change dollars or try an ATM? (ATM) Find an ATM now, or later? (Later) Bus or taxi to the train station? (Taxi) First class or Second class? (First, duh. Not going back.). Beverage service: what would I like to drink? (Water, for sure.) Oh no, I didn't "validate" my ticket before boarding! (Conductor punches it.) Make sure I don't fall asleep and miss my stop. (I get up from my seat 10 minutes before we arrive.)
At the Florence train station all my decisions haunt me. I can't find an ATM. When I finally do, it's downstairs. And it rejects my card. And I'm really annoyed by my two bags. What was I thinking? Do I have enough Euros to get to my hotel? The taxi driver gives me an estimate that seems like I can make it.
I get checked into the hotel. I'm exhausted and on edge and my sleep schedule is shot.  I start to think the whole adventure was a terrible idea. What was I thinking? Giving up a place in Mountain View? Leaving my job? Ditching my friends in California? No more line dancing? For what, a year of being confused, screwing up my sleep schedule, and dragging two bags behind me?!
And a voice somewhere says it's the exhaustion talking, and it will all be totally amazing once I get some sleep. The front desk directs me to an ATM that accepts my Schwab Bank debit card. I get a pizza and some chianti at the hotel bar. And I go to bed around 8 and sleep for nine hours.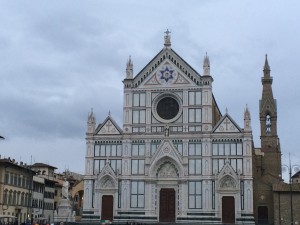 The next day my taxi drives by the Duomo and the Santa Croce cathedrals, which are both beautiful. I check into a gorgeous apartment full of light. I get grapes, espresso, and a mobile data plan for my iPhone. This trip is going to be amazing.