I came to Torino because I was bored of Milano. I fell in love with the place.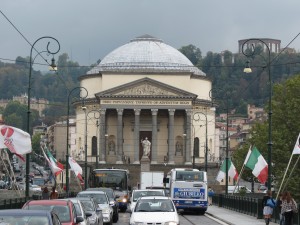 Torino (Turin) sits 80 miles to the west of Milano, in the hills of the Piedmont region. Like all respectable cities, it's located on a river. This one is the river Po. Every time I see the name I think of Kung Fu Panda.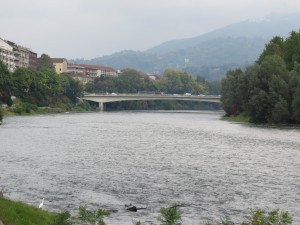 In addition to the river, Torino has beautiful architecture. It also has amazing food, and of course great cappuccinos. A local said Torino has everything you could want, except the ocean.
I arrived in Torino on a Frecciarossa high-speed train from Milano on a beautiful Thursday afternoon. On the ten-minute taxi ride to my airbnb I fell in love with the architecture. My taxi driver was very friendly and it was great to speak Italian again. The language is just so musical.
I was exhausted after two back-to-back red-eye flights, SFO-JFK and JFK to MXP. Even with first class lie flat seats I could only sleep about two hours on each flight. I know, poor me. I scouted out a coffee shop for the next morning, got some apples at a nearby grocery store, and walked down a couple of blocks to admire the river and the hills above it.
That night I slept 14 hours and woke up at 1pm. For $2 I got an amazing cappuccino and a marmalata croissant. Then I set out to explore.
The river is pleasantly wide, and all the buildings are set back so you can really enjoy it. Torino is not crowded, so the walk was quite relaxing. I didn't see a single tour group or tourist bus. Those tourists ruin everything (he says both ironically and with tongue in cheek).
Valentino park is runs along the river for about a mile. I walked for two miles, passing the Chiesa Della Gran Madre di Dio and the Borgo Medioevale. The last one is a fake castle. It was built in 1882 to look like a castle from the 1500s. I love it. The signpost referred to it as the first ever theme park.
Besides hoping the sunlight would reset my body clock, and needing to meet my Apple Watch fitness goal, my main purpose was to visit a tree house. There's an apartment building in Torino that was built with 150 trees in planters. Sure, they rattle on about absorbing CO2, but the important thing is that it looks cool. (And Joe, there's another Apple reference for you.)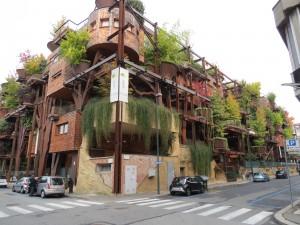 After picking up a pizza for dinner, I went out to see some of the town by night. Italy does a great job lighting up landmarks after dark. Torino is famous for "La Mole" which is a cinema museum. I was a bit frustrated that there was no angle that let me get the whole thing in a picture. I suppose you just have to go see it for yourself. (I also get hungry thinking of the Mexican chocolate "mole" sauce.)
My verdict is Torino is a wonderful romantic destination, or even just a relaxing getaway. You'll delight in the unique architecture, wander slowly along the river Po or through Valentino Park, and feast on exquisite Italian food. Maybe you'll visit the Egyptian museum or La Mole. No matter what you do, you'll feel like you really can get to know this Italian city.