The final destination on my December mileage run was exotic Morocco. Think mosques and markets, merguez and tagines, deserts and beaches. An extra bonus for me was the chance to speak French, which is one of the official languages.
I violated rule #2 on this trip. I city hopped. I only spent two nights in each of Casablanca, Rabat, and Marakech. Here's how each city treated me:
Casablanca – easing in
Rabat – spoiled in a Riad
Marrakech – marooned in the medina
Casablanca
Casa for short; it was an easy city to visit since everything felt very French. Within a few hours of arriving, I'd withdrawn money from an Airport ATM, taken the train to the Casa Port station, found a SIM card with 4GB of data, and checked into my very modern Airbnb.
I don't sleep well on planes, so I had a brief "table nap" after checking in. Then it was time to buy postcards, which were conveniently available at the nearby Casa Port train station. The little shop even sold stamps. Pro tip – buy stamps and put them on before writing the card. (Rio burned me on that one.)
For my one full day in Casa, I started by finding an outdoor cafe. Not an amazing cappuccino and croissant, but the people watching made up for it. Armed with caffein, I dove into the medina, which is like a market or bazaar, that also has compact residences. Like antique condominiums.
Pleasantly, the shopkeepers were quite tame. I got the occasional "hello friend" and "american? frenchman? english?" but not even as aggressive as Napoli back in March. I decided I was Italian, just to throw them off their game. My favorite part was seeing all the spices for sale.
That night I took a 20 minute sunset passeggiata spaziergang stroll to the grand mosque. It's right on the shore of the mediterranean. It was very relaxing to wander over to the sea wall and have a seat to watch and listen to the waves.
For dinner I splurged at the Sofitel next to my airbnb. I started with a Pastis aperitif, which was the first alcoholic drink I'd seen since I arrived in this arabic country. I order hummus and spinach flatbread as appetizers. The main course was a chicken tagine, which is cooked with lots of spices and olives in the ancient arabic precursor to a crockpot.
Rabat
After two nights in Casa I was headed to Rabat by train. I only chose Rabat because I liked the banner photo on wikitravel. I splurged by spending $8 (85 Dirham) to ride first class. Unfortunately it's not quite up to German or Italian standards. In particular, no power outlets, which are definitely my recurring nemesis.
I checked into my airbnb, which was the most amazing huge riad I could have imagined. It was actually inside the walls of the medina. I met Fatna, the live-in housekeeper. First she gave me a tour of rooms surrounding the atrium, the upstairs bedroom, and the bi-level terrace. Then she served me a traditional cucumber salad with a chicken tagine.
While in Rabat, I visited the casbah, or fortress, at the mouth of the river Bou Regreg. There's a delightful cafe nearby, and a garden with several free-range cats. The cafe has a great view, and you can get various cookies to go with your sweet Moroccan peppermint tea.
The highlight was definitely the Chellah. It's about 10 minutes away from the medina by taxi. There are ruins of an ancient roman settlement that was then built into an arabic settlement, complete with a mosque and a minaret. Even better, were the storks! They've built nests on all the high points of the ruins. It looks like something out of a Dr Seuss book! And then they started chattering to each other in a staccato ka-ka-ka repetition.
Marrakech
My final destination was filled with extremes. The city itself is beautiful. I arrived in late afternoon when the golden rays of the sun were lighting up the pinkish adobe buildings. Even the train station was gorgeous.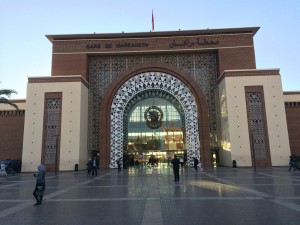 Right away I was glad the country had slowly toughened up the negotiations.. For example, my airbnb host had warned me not to pay more than 20 Dirhams for a taxi to the medina. The conversation went like this.
Me: I want to go to the medina
Driver: No problem
Me: You don't have a meter?
Driver: It's 30 Dirham
Me: I'll pay 20
Driver: 25
Me: 20 or I'm getting out <reach for door handle>
Driver: <waves me to stay inside>
Only after we got going did I remember the exchange rate. It's basically 10 Dirham for $1. Yep, I'd argued over $1. Not even willing to compromise at 50 cents. (In the Peace Corps I once haggled over a penny. Yep, just one cent.)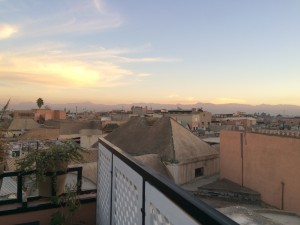 Soon I was at my airbnb. It was in the middle of the medina. That's right, I was deep in a rabbit's warren of stalls filled with a dizzying variety of handmade goods plus various spices, nuts, and candies. There were blouses, scarves and bolts of fabric. Walls of pointed leather shoes in a rainbow of colors. Wooden jewelry boxes, chess sets, and photo frames. Every stall had three or four neighbors selling the same items. The tarps overhead made it seem even more like being underground. All told, it was probably the size of two football fields.  I was constantly worried I wouldn't be able to find my way back to my apartment. Or that I'd be trampled by the donkeys pulling wooden carts, or by the three wheelers that were starting to replace them. The best part was that I did all my Christmas shopping in one afternoon.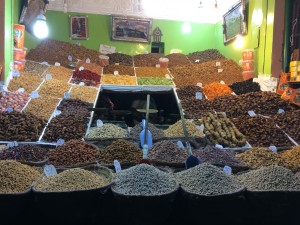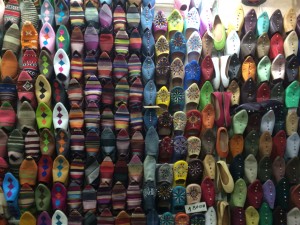 My airbnb host was very cool. He took me out for drinks the first night at a restaurant with a terrace and an amazing view of the city. The next day he introduced me to a shop owner who sold scarves made from the famous Moroccan cactus silk, called sabra. That afternoon I wandered slowly around the outskirts of the medina, before doing the last of my shopping. I finished it off with a couscous dinner at the same terrace as the night before. The next morning brought me a 5am taxi ride to the airport, and the end of my North African adventure.