This post started because I was weary. Not sleepy and tired, but sluggish and unmotivated. Maybe I've been a nomad too long. Maybe I've been away from work too long. Or maybe I've been without a mission too long.
Coincidentally, I downloaded book Level Up Your Life by Steve Lamb. It showed up on the Art of Non-Conformity blog, and resonated with my neediness and video-gaming tendencies. The title refers to the way you gain experience points in games like Dungeons and Dragons or Legend of Zelda or Call of Duty.
Steve encourages you to think of achievements and adventures you want to complete. His suggestions include holding a handstand, speaking a foreign language, or volunteering at a children's hospital. As I brainstormed what I would like to accomplish I kept thinking I just did something like that!  Here are some of my favorites.
Nighttime Segway Ride
Raw Shrimp Dinner
Cat Island
First Class Transpacific Flight
Opening Day Oktoberfest
Two Nights in a Bazaar
As you read things, think of the adventures you've had recently, as well as the ones you would like to have.
Nighttime Segway ride
It was 7pm in Rome and the six of us met up at the tour office just a quarter mile from the Coliseum. (Wow, that's so fun to even write!) There was a wonderful adorableness factor because one woman had arranged it as a surprise birthday present for her boyfriend. And they had adorable British accents.
Riding a Segway feels a lot like floating or even dancing. The more you relax and use soft, fluid motions, the more you glide over every surface. We cruised like Asgardian warriors through the plazas (piazze) garnering the awe of families on vacation and the approbations of the local youth out for a night on the town.
Raw Shrimp Dinner
It was my first night in Fukuoka and I was hungry. Unlike the touristy Roppongi neighborhood of Tokyo with it's English menu restaurants, Fukuoka eateries only had a red lantern to indicate they were a restaurant.
Using one week of Japanese vocabulary, I started telling people I was looking for sushi. The only part of the response I could understand was the general direction they pointed. I finally stepped into a tiny spot with maybe ten tables and a bar that sat 6. When I butchered the question about the availability of sushi, the host said they had sashimi. (Sushi refers to the ball of rice with a slice of fish over it; Sashimi is just the slices of fish without rice – like a steak tartar)
The owner and chef was a cool younger guy who had lived in Southern California and spoke decent English, except when it came to describing his menu. The menu was all traditional characters, with no photos (aka "life savers"). After admitting he couldn't read the menu to me, I pulled my parachute and ask if there was a combo special (a "set" or "setto"). There was. Problem solved.
Ten minutes later out came a traditional polished wooden board with slices of tuna, salmon, halibut, egg omelet. And a shrimp. Raw. Cut in half – the body lined up with the other slices of fish, the head sticking up straight in a tiny metal cup-stand like you would use to serve balsamic vinegar. The eyes were in tact. The wildly long feelers were still exploring and the tail was still twitching.
I'm not squeamish, so as I finished off the familiar items, I ate the raw shrimp body as well. It was tender like the fish, and I detected a pleasant hint of it twitching as I chewed. I'd started chatting with the cute twenty-something couple next to me in my basic Japanese and then some broken English.
When I was done, the girl next to me said "don't forget the shrimp head". I chuckled, smiled, said "ok" and left it alone. But she continued. "Go on, eat it… The chef will even fry it… Go on, ask him…Ask him…" What men won't do at the urging of persistent pixies. I asked. He fried. I ate.
Cat Island
The Japanese word for cat is neko. My niece Liana loves neko as much as the Japanese. Whenever we saw a neko, she would exclaim with throaty excitement "ne-kohhh"! We stopped for half an hour one day when she found a man with a stroller holding seven Persian neko. And of course, her wish list of activities included going to a neko island.
So we did. We took a one hour boat ride to an underpopulated fishing island off the coast of Fukuoka. My instructions were not to get rabies. (That's how it works, right?) It was hot and there were no cafes or attractions, but she got to sit in a tiny plaza and draw out the felines using the shrimp tails from my sushi lunch as bait.
As we explored the few residential streets, a gray-furred cat caught Liana's eye. It's elderly gray-haired owner came out and sort of chatted with us in more Japanese than we could match. His method of petting the cat more closely resembled lightly pounding its side, like you might pound your thigh to call a dog. And that's when you feel like you're on an alien planet of tiny, incomprehensible, cat-pounders.
First Class Transpacific Flight
When you buy airline tickets for overseas travel, do you ever look at the prices of first class? There they are, for just $20,000 or the price of a Mini Cooper. When you board the plane, do you look to the left? Do you wonder what it's like to sit up there, instead of in the spartan business-class pods, or the five-across blue-upholstered back-of-the-plane seats with tiny video monitors whose screens are worse than the original iPhone?
On July 30 I flew first class on Japan Airlines from Tokyo Narita airport to San Francisco SFO. Included in my ticket was access to the first-class lounge. I took a shower to freshen up after hoofing it in Tokyo's summertime heat. I had a sushi dinner. I even got a 15 minute massage.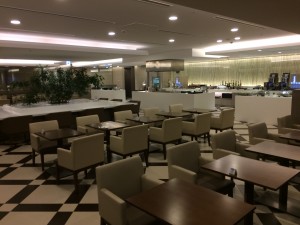 And then I was on board. Through a separate walkway to the first class section. Not just a seat, but a seating area, with space for a second person to work or just dine. A seat that transformed into a flat bed and came with a mattress pad, a full pillow, and pajamas! And a super polite flight attendant who humored my beginner level Japanese and recommended the eggslut appetizer (with truffle oil).
The cost? 70,000 AAdvantage miles and $75 in fees.
Opening Day of Oktoberfest
This was the realization of a long-time dream. Twenty years ago I backpacked through Europe and arrived in Munich in late October – after the end of Oktoberfest. So I reserved an airbnb six months in advance, researched the beer tents, and rallied travel partners. But I didn't eight people to reserve a table, and without a table there was no chance of drinking on the first day – said the interwebs.
So I went all zenhabits and accepted the day for what it would be. Leisurely breakfast with friends. A parade of Clydesdales hauling beer kegs and revelers. And a chance to stroll casually through the fairground.
Next thing I knew, we caught an opening into the Hacker Pschorr beer hall. We talked a table full of Swiss twenty-somethings into helping us get beer. And then we were standing on the benches, waving 2-quart mugs of beer in time with German lyrics we didn't understand at all. Amazing.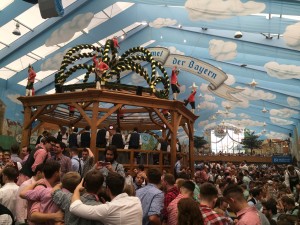 Two Nights in a Bazaar
For two nights, I lived in an apartment deep in the center of one of the largest bazaars in the world. Every outing came with a five minute walk past goods such as carved wood, dried fruit, colorful leather shoes, silk blouses, and mounds of brightly colored spices.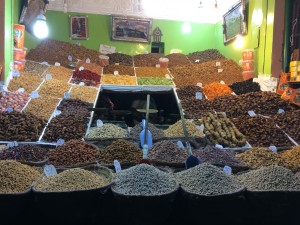 Sometimes the place was annoying. If I so much as glanced near a merchant, they said "hello, come see my shop". There were constant crowds of shoppers, interspersed with the occasional donkey cart carrying replacement inventory. And for the first 24 hours I was in total fear of having my pockets picked and/or getting lost in the tight curving alleyways with no street signs.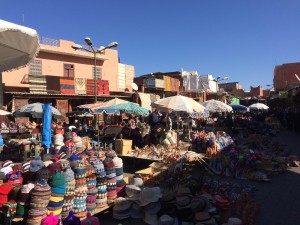 On the other hand, I soon had a mental map of which shops would lead back to my apartment. I loved the bright colors of everything on sale, and I developed a calm, slow-moving glance that allowed me to experience it all without advertising any interest. Best of all, I got all my Christmas shopping done, and had fun negotiating with the shop owners as I did so.
The Takeaway
If there's someplace you've alway wanted to go, what's holding you back? If you haven't had an adventure for awhile – plan one. You'll make memories that will last for years!