In case there was any doubt, I'm really enjoying this trip. Every day I have a new adventure, some big some small. On Tuesday I had three adventures in the same day. (So maybe I'm having trouble staying on a publishing schedule…)
Here were my adventures:
Calcio Storico – traditional Italian rugby-style football
Macellaio – visit to the butcher shop
Wine growlers – refillable bottles to protect the environment and enable alcoholism
Italian Medieval Rugby
Yesterday was the big game of calcio storico. A week ago the city laid down a good 4 inches of dirt in my piazza and then surrounded it with hay bales. (Every time I write piazza, I think pizza. And I get hungry.)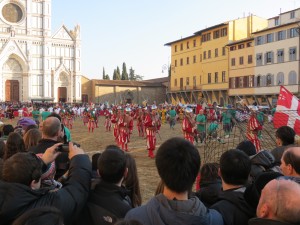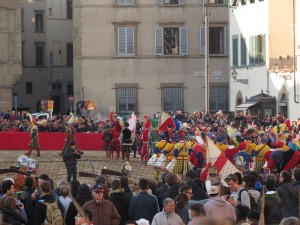 The event started at 3. I showed up at 4, in protest against the oppression of schedules. Non c'è problema. The game hadn't even started. They were still doing ceremonial marching around the field and making proclamations over the loudspeakers, just like the ones they used in the 1600s.
Finally both teams were on the field. About 25 people on each team. One in green, the other in white. Both with poofy medieval knickers. And then the game started. And no one left the field. All 50 players stayed out there. The ones that weren't near the action passed the time by talking, joking, and occasionally putting each other in a headlock. At 60 yards long, the field could barely hold all of them.
The ball looked like a rugby ball, but the gameplay was almost ultimate frisbee. No scrums. But you could run forward with the ball. No kicking for points. The goal ran the length of the end of the field. The strategy was to give the ball to the smallest fastest player on the team and have him squirm his way past the 24 huge brutes.
It was fun to watch for about ten minutes. It helped that I'm tall enough to see over everyone around me.
Cinzia sends me to the butcher.
I decided to get more accountability and direction on my language learning. So I signed up for language tutoring through iTalki. Not a bad deal at about $20 per hour. My teacher's name is Cinzia and the first meeting was really great. I told her I wanted homework assignments "in the field." The next day I had an email with my mission: go to a macellaio to buy some carne and get a ricetta to prepare it.
Not knowing where to find a macellaio I went to the source of all knowledge: my coffee shop. It's all about learning to speak, right? Francesco confirmed my assumption that it was a butcher. He said he didn't know where to find one, because he's from Sicily, not Florence. (Of course.) A couple of older guys having their espressos told me to go to the nearby market next to Sant'Ambroglio.
I arrived and did some reconnaissance. Sometimes it takes a few minutes for me to psych myself up when I don't know the ritual. As I walked around, I found four butchers. This was in a hall the size of a normal grocery store. Not one of those "Super" Safeways, or Randalls. Seems like they would have consolidated by now. But who knows, maybe there were ten of them before.
I chose the one who looked least busy, and least likely to be annoyed by my slow, broken attempt at Italian. I explained my homework assignment. I said I wanted something simple, but tasty. Or that's what I think I said. I'm never sure. When he said he had something filled with dried pear and Gorgonzola, I was sold. No idea what kind of meat it was.
For a recipe, it sounded like he said to pan fry it for 20 minutes, with a little onion and a bit of white wine. I decided to wing it from there. It came out edible, but far from what I'd like. Still, mission accomplished.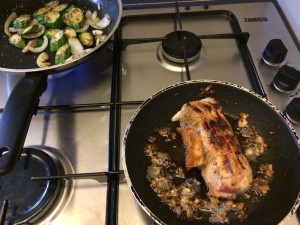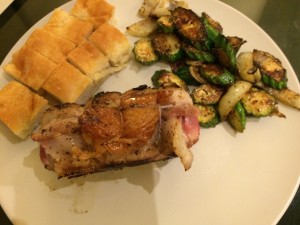 Wine Growler
I hope you all know what a beer growler is. Well as I left the market I found a shop with wine growlers. I needed wanted needed some wine to go with the dinner I was going to assemble from the macellaio ricetta. This is Italy after all. (Don't worry, I bought some salted focaccia to make it healthy. I know about balanced meals.)
I stepped into a little shop that looked promising. (The word Vino was printed in the window.) Two very short but very energetic elderly Italians proceeded to explain – in Italian, of course – that I should get a refillable bottle of wine. Like a beer growler! (To see what I mean, go visit Sones Cellars in Santa Cruz for their Hedgehog red.) Their testimonial was that all the american students came to their shop for wine. And it would only be 3 euros, which can't be that much, since they're coins.
(Full confession, I only pick up one or two key words from every sentence. If I leave with an affordable bottle of drinkable wine, it's a language success. And it's not like I have the palate of a sommelier.)
So by the end of the day I'd used Italian to visit a butcher, buy some refillable wine, and ask for my picture taken with one of the medieval guards protecting the rugby field. I made friends at the market and then cooked myself a halfway decent authentic Italian meal. All in a day's work.