I hit 16 museums and attractions in the course of 4 days at the end of February. A friend came to visit for a week and that was a good excuse to overdose on culture. Which is exactly what we did, fueled by gelato and espresso.
Why the compressed schedule? We wanted some motivation to actually see some museums and not just sit around and drink wine all day – not a bad option, though. We bought the FirenzeCard with access to 60+ museums for 72 hours. The cost was 72 euro-thingies. Once we bought the card it felt like every museum was free. Plus we got to skip the lines. Those wrapped around the block to see the real David.
Thanks to Mom for her advice to look up what to see in each museum before going. The most effective strategy was to head straight for two or three must-see items, and then wander until we felt the need for gelato and/or a marocchino coffee.
Here are the 16 attractions – with one sentence for each.
1. Palazzo Vecchio excavation
The Palazzo Vecchio is built on top of a roman theater.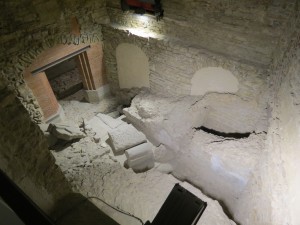 2. Palazzo Vecchio interior
This huge place has the Genius of Victory by Michelangelo.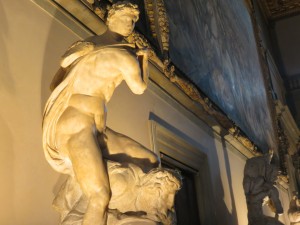 3. Palazzo Vecchio tower
Climbing the steps is worth it for the view and to justify a gelato afterwards.
4. Galileo Museum
They had telescopes, the screw of archimedes, and Galileo's preserved middle finger.
5. Galleria dell'Academia
Michelangelo's David and his unfinished sculptures that are referred to as "prisoners" because they look trapped in the marble.
6. Duomo della Cattedrale Santa Maria del Fiore
It's huge and beautiful and the 400 steps are a great justification for gelato.
7. Cattedrale Santa Maria del Fiore
The floor is intricate white, pink, and green marble and the inside of the dome is a beautiful fresco.
8. Battistero
Amazing golden octagonal frescoes inside the dome where people would get baptized.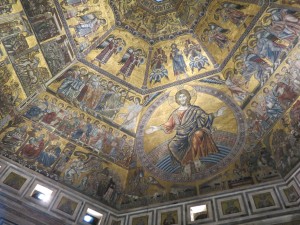 9. Campanile
Beautiful marble bell tower with over 400 steps and amazing views of…the Duomo.
10. Santa Reparata of the Cattedrale Santa Maria del Fiore
Mostly stared at the patterns in the floor mosaics.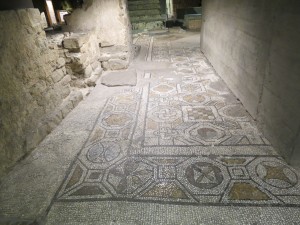 11. Bargello
It's got Michelangelo's Bacchus and two Davids by Donatello
12. Uffizi
The birth of venus is beautiful and then there are 50 more rooms and the longest art hallway you've ever seen.
13. Basilica Santa Croce
Not only does it have a gorgeous marble facade and the remains of Galileo and Machiavelli, it's also at the end of my street.
14. Capella Brancacci
After marveling over the frescoes of Adam and Eve being chased out of the garden, look up at the ceiling frescoes that give the allusion of intricate window framing.
15. Giardini Boboli at Palazzo Pitti
It's so huge that it takes and espresso to get started, but you get to see a statue of Venus in a fake grotto and a naked dude on a tortoise.
16. Galleria Palatina at Palazzo Pitti
Only ten rooms, but with forty paintings per room it's more overwhelming than the Ufizzi.
I think that was even more culture than the Monet marathon of 2013 (Paris). (And yes, the pass was cheaper than paying for those 16 museums separately.) I'm very tempted to get the card again and try to double the number of museums. Stay tuned.
What's your favorite photo? Leave a comment below!